is business management software (ERP) designed for small and medium-sized enterprises, sold by the German company SAP SE. As an ERP solution, it aims to automate key business functions in financials, operations, and supply chain.
Source: Wikipedia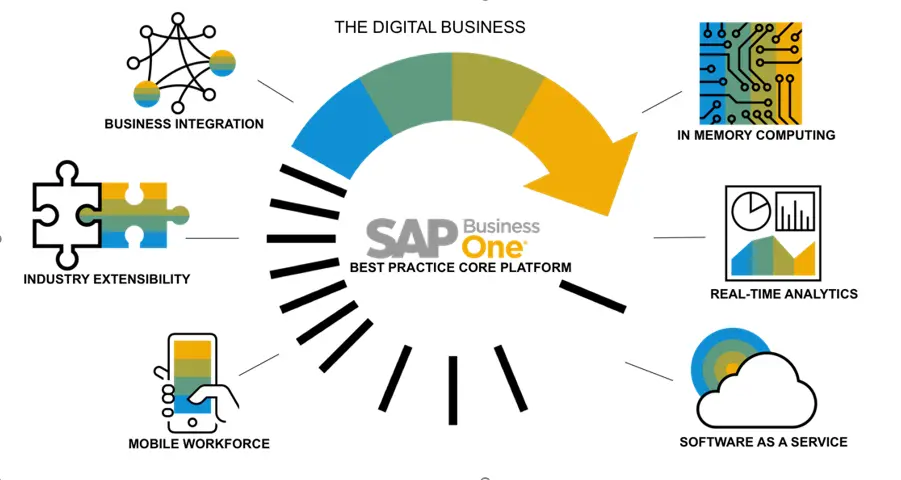 More than 60,000 SAP Business One customers including 2,400+ subsidiaries of large enterprises
1 million users and 95 percent renewal rate
Sold and available in 170+ countries in 27 languages
500+ industry solutions

* Source: SAP Marketing Aug, 2021
SAP Business One Brings
Greater Control Over your business
12
Years
Delivering ERP Solutions
300+
Clients
Enjoyed Our Service
300+
Experts
Our Consultant Team
11
Offices
Globally Serving Our Customers
Advantage
That SAP Business One ERP Brings
Designed to be affordable for small businesses SAP B1 has a low total cost of ownership and is one comprehensive application to cover all your needs from one solution
Business is complex in nature. SAP B1 ERP is modular and flexible with over 500 add-on solutions, tailored to industries or special functions. It makes business running simple
Prepare You for the Future
Quick and easy to implement – get you up and running in days or weeks over 60,000 SAP Business One customers, implemented in over 170+ countries, in 27 languages and 44 localized versions.
What peoples say about us
"The SAP Business One is flexible and efficient as it can generate superior returns in a relatively short term with a fairly economical initial investment."
"By applying the product quality and batch tracking function, the system will automatically remind the operator to timely dispose the products (batches) which have expired, and thus greatly reduce the risk of inventory obsolescence, as well as record errors and waste caused by improper manual operation."
Inside Jiu Zhen Nan, SAP is called "the heart". With this strong heart, we are able to "transfuse" to various business units including finance, production, sales and procurement via real data.
SAP Business One Cloud Hosting Price Plans (2023)
Our servers locate in Kiwi local telecom provider's data center, which provides unparalleled performance to New Zealand users. All hardware are premium contemporary models.
Sale
For Startup Businesses With 1 To 5 Users Maximum
For One Of These Roles: Sales, Financial Or Logistic
Access To All Modules, Most Powerful
Mobile Only, BYO License, Perpetual etc.
* $99 Valid For First User Lifetime, for Remaining Price is $109
* SAP will publish latest price list regularly. We try our best to keep it updated, but the price above does not indicate a valid quote.