Use the Customize window to define your own shortcut keys for opening frequently used windows.
To access the window, choose Tools -> My Shortcuts -> Customize.
The List tab lists all the shortcut keys and the windows to which those keys are allocated.
On the Allocation tab you choose the shortcut keys for selected windows.The
Allocation tab is divided into two panes. The left pane displays modules in SAP Business One. The right pane displays windows in the selected module.
Customize Window Fields – Allocation Tab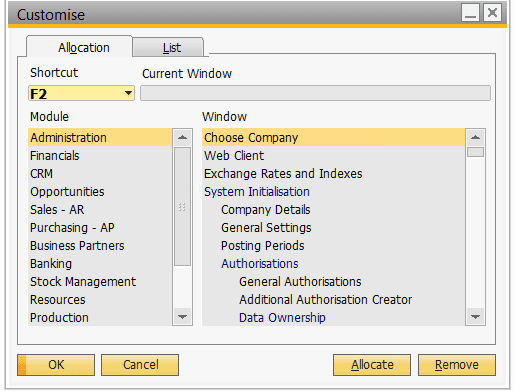 Shortcut
Select a shortcut key to allocate to a window.
Current Window
Name of the window to which you have allocated a shortcut key.
Module
List of all modules in SAP Business One.
Window
List of windows from the selected module to which you can allocate a shortcut key.
Allocate
Assigns the selected shortcut key to a selected window.
Remove
Cancels the shortcut key allocation.